*
Professional Development
Coaching 
Virtual & In-Person
for groups, dedicated teams & individuals
…..
It's not just WHAT you say, but HOW you say it that makes
the difference!
All our workshops raise awareness of the importance & impact of
Diversity & Inclusion!
~
Learn to coach yourself!
Click HERE to read about 'The Power of The Debrief'
Felix / Weiner Consulting Group:
An innovative professional development coaching firm providing unique, customized, stimulating
(
and fun!
)
coaching and training for organizations, teams and individuals. 
Using actionable tools for continual self development and awareness, participants elevate their ability to communicate with impact and present themselves and their firms with confidence, clarity, effectiveness and engagement.
Since 2012, thousands of professionals – at all levels in their career – have benefited from our highly-interactive and multi-dimensional workshops across the United States, Canada and Europe.
Explore our exciting programs below:
Role-playing and strategic coaching takes individuals and teams to a higher level!
You will get results, take away tools for continual self-development
and

have some fun in the process!
Let our unique coaching approach enhance your personal style
Raise your consciousness and awareness
Bring new awareness to old habits that can distract an AUDIENCE from focusing on your key points – and YOU from delivering them effectively.
Be your remarkable self
Liz and Steve's unique and engaging coaching style will help you develop and enhance your presentation and communication skills – while embracing your individuality.
You CAN take it with you
Take tools away for your continual self development and… you'll receive reminders to practice, practice, practice!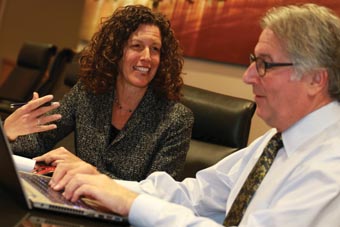 Virtual Women's Leadership Workshop 
"THANK YOU so much for your exceptional workshop… it was so great and professional…we really enjoyed it and learned a lot. You made the workshop both interesting and interactive, which is not easy being an online workshop. It was also really cool how you managed to incorporate so many different tools …"
Accelerate Network, Barcelona, Spain
Women's Leadership Workshop 
"I just wanted to send you a personal note to let you how much I enjoyed the [Women's Leadership] workshop. You did an outstanding job at presenting, and the discussion topics were so interesting. It's very rare that you walk out of these kinds of workshops thinking you wish it could have been a full day."
Kimberly Sikora Reed (Vice President) – Harrison Street Real Estate Capital
Thank you very much for the well prepared seminar on business presentation.  Your seminar stands as the best possible example of what proper preparation and practice can do.   I came away with several key tips and invaluable feedback specific to my own presentation. 
David Scharfenberg (VP) – Waterton
*
We engaged Steve Felix and Elizabeth Weiner to help us prepare for our upcoming business development roadshow. They worked us hard, and we got results. Liz and Steve have a unique style and incorporate an effective combination of formal coaching and creative (and actually enjoyable) exercises.
Jason Grossman (Partner) – Berkshire Group
Their help was invaluable. Liz and Steve get the big picture and are not shy about asking the tough questions. Their presence in the room as objective and knowledgeable third parties pushed us to make important strategic decisions, simplify our story and clarify our message.
Roger Gregory (EVP) – PM Realty Group
"Liz / Steve, Thank you both so much for our workshop. You both were phenomenal and I got very valuable skills to put to use immediately. You both are great at what you do."
Ryan Mula (Director, Capital Formations) –  Grubb Properties
*
We wanted to improve our presentations, especially in meetings with potential institutional investors. You came highly recommended by some industry friends. Having completed your program, I can say with no hesitation that our sessions with the two of you have been absolutely invaluable. From a team standpoint we learned about what works and what doesn't work when we're together in presentations. I definitely have more confidence in our overall ability to hit our marks in these meetings.
Jeff Tucker (COO ) – Century Bridge Capital
We will not launch a new fund without first bringing Liz and Steve in to work with the team.
Chris Hughes (CEO Capital Markets Group) – Hines
FWCG is proud that leading global firms have made us their 1st choice for
Behavioral Presentation Coaching
and Women's Leadership Workshops!